Skin tips :
1- A wonderful skin care therapy which offers a glowing skin with banana and honey treatment.
ripe a banana and include honey in it. blend them well and treat your facial skin.
leave for a few hour untill your skin becomes dry. Now wash it with normal water. It will bring out a fresh and glowing skin.
2- Take tow vitamin E capsules and mix them in 3 tablespoon jojoba oil. after warming it apply on the hair. for the entire night leave the mixer on the hair. Next morning wash off the hair. You will get free from the problems of dry and frizzy hair applying this process.
3- Milk is wonderful in making the lips soft and kissable. you may use a little milk on the lips and enjoy the wonderful efect.
4- Take glycerin , Tumeric, Lemon and milk mix it and apply it on your face for 1 hour daily. Within 2 or 3 dys your face gives shiney and glow. tru it , it works.
5- Take one spoon of curd , one spoon of hony and one spoon of banana paste. Mix them and apply on the skin for 15 – 20 minuts, And after it wash your face. Try it now.
6-Smash a piese of apple, Mix it with milk and boil it. Apply the paste on your face which instantly increases your complexion. Try it out now.
Make sure that your eyes get enough rest. Do not over stain them by starring for long stretches at the computer monitor and television screen splash your eyes with cold water.go for eye check-ups regular. and use an under eye nourishing cream, regularly, to take care of the soft skin around your eyes.
Image Source: Creative Commons Flicker

Nails Tips :
1- Wrap the tips of your nails with polish. When applying the polish,
be sure to bring it over the edge of the nail and slightly under thetip. This helps prevent chipping.
2- if the polish chips, its best to remove the paints from the nail and start over, if you don;t have time,
dip your finger in the nail polish remover and smooth over the chipped area and re-apply a topcoat
3- When a nail breaks, the best thing to do is cut it of. but here is a trick if the break is low down (& painful, undoubtedly)
cut a tiny strip of gauze from a teabag. place it over the tear & the paint over with polish.
4- The secret to keeping nails smudging: Dry time! surface will feel dry to the touch after 10 minutes,
but don't be fooled. It actually takes an entire hour fro nails to completely dry.
Relaxation:
If you want to get a healthy glow on your face, one of the first thing you need is 8 our of undisturbed sleep every night. our body needs to recover from the wear and tear it undergoes each day.
Hair Care:
Hot oil massage and turban therapy.done at least once in a month, are good for your hair. Oils like olive oil, castor oil, almond oil and coconut oil. are particularly good for the hair. and use hair care packs about 2 times in a month.
Hair Tips :
the hair without any oil massage treatment for long days turns into frizzy, dry and unhealthy. To make it luscious and soft,
use good hair oil on your hair. it will create the tresses smooth and healthy from the root. You may nourish it with hot oil treatment too.

Shampooing :
After offering the oil to your hair with cleansing treatment.Use a fantastic conditioner based shampoo on the hair.
Then gently wash it with normal water. it will help you to eliminating dirt, extra oil, etc from the hair.

Combing :
Choose a wide-toothed comb if you have curly hair. it will help to entangle the tangles. You may apply your own fingers for doing the process.
Use a comb when your hair is dirty. Applying comb on wet hair, you will meet hair fall problem.
Fresh Skin Tips :
Cleansing:
It is a simple fact that skin is the gentle portion of the body.
you must do some cleansing treatment to your skin for nourishing its surface.
the outer environments is composed of numerous harmful elements.
Scrubbing:
Scrubbing is important for a specific purpose. you might be well- known that the skin gets many dead skin cell. removing them, you will be able to enjoy a clear and healthy skin.
sunscreen :
Like dirt and different types of pollution, the scorching sun ray creates dangerous effect on the skin. The more dangerous ultra violet rays are responsible in creating sunburn and wrinkle and other problems like
pigmentation, etc. Use a sunscreen lotion which contains SPF 15at least. it will guard the skin from the dangerous effect of the sun.
tips :
to get pimple free skin reused the intake of junk food and colas. Always keep your skin clean and carry face wipes while you are on the move.Teens also face the problems of dandruff in hair. You need to wash your hair three to four times a week to keep scull clean.Once a week don't forget to oil your hair.
Use deodorants and antiperspirants to keep yourself fresh all through the day. you can add some essential oils or cologne in the bath water.
Rest :
You should learn to relax . to unwind, to distress. yoga and meditation are great way to relax. exercising regularly is also a good way to stay fit and active-reguler exercise is also a great way to "De- stressing" a combination of pilates and yoga may be ideal if you want to have a great looking body.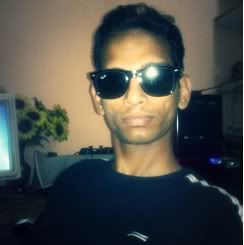 Rizwan Ahmad
About the Author:
This article is written and posted by Rizwan Ahmad Author and founder of myfoodforu, He is a blogger from India and he loves to share his thoughts by writing articles on this site to the different topics related to technology world,